In January, I've been to Toronto and we stayed there for 2 weeks. In that time, we were at The Grand Hotel Toronto and I believe it is the best hotel in the city. Here's why:
First of all, they
are what they sell. Usually rooms aren't
exactly as they seem on the website, but this hotel is! You can see in the picture bellow that you have almost an apartment, with the room and a living room (the entrance of the bedroom), that has a tv and a dvd (in front of the bed there's also one).
Between them, there's a mini kitchen, with m
icrowave, minibar, shelves, a sink, etc.
I didn't take any pictures and couldn't find online, but they give you a corn inside a bag to welcome you. What's special with that? If you follow the instructions, you get popcorn. I loved it! So different!
Usually we get chocolate, popcorn? This was the first time!
For those who like to swim, they have a really beautiful inside pool that's warm on winter (and if it wasn't it would be completely frozen).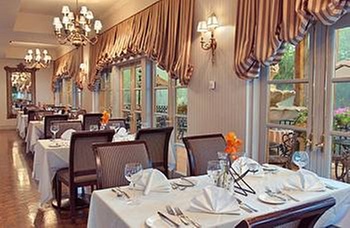 The restaurant is amazing too, super chic and elegant. It's called Citrus and if you look online, people really suggest it for dinner. There you eat breakfast every morning. I found the breakfast pretty good, not the best I've ever had in my life (that one was onboard the Anthem of the Seas). I loved the room, mainly, because I could see squirrels through the windows (and I love squirrels).
THEY ACCEPT PETS!
It's amazing! My favorite feature about the hotel! I love pet friendly places! They only charge a fee for cleanning the room after you leave and that's it!
Now, my second favorite feature about this place: localization! IT'S NEAR EVERYTHING. The CN Tower, Rippley's Aquarium are only 30 min walking, there's an amazing mall 10 min away from the hotel and in the middle of this walk, there are lots of Starbucks, restaurants, a few churches, a hospital, parks… Besides the mall, there's the street that's the Times Square of Toronto: Bay St and Dundas St. It's beautiful. On this street you can find the Coach Bus Terminal, where you can take a bus to see Niagara Falls.
That's it! Everything I could remember to write that would show you the best hotel in Toronto. This was not sponsored (even though I wouldn't complain!), I simply thought it was an interesting thing to write about.
Tell me what you think on the comments bellow and I'll see you in the next post!